Adhesive film heat press laminating machine
Product Detail
Product Tags
1. The operator can operate the device only after he is fully familiar with the performance of the machine and the working principle. This equipment must be operated by a dedicated person, and non-operators should not open and move.
2. Before production, check whether the electrical appliances such as cables, circuit breakers, contactors, and motors meet the requirements.
3. Before production, check whether the three-phase power supply is balanced. It is strictly forbidden to start the equipment in phase loss.
4. During the production period, it is necessary to check whether the rotary joints are safe, whether the pipelines are unblocked, whether there is any damage, oil leakage, and timely elimination.
5. Before production, check whether the pressure of each barometer is normal, whether there is air leakage in the gas path, and repair it in time.
6. Check the tightening of each joint before production, whether there is looseness or shedding, and repair it in time.
7. Before the equipment is mass-produced, a small amount of test should be done first, and then it can be mass-produced after success.
8. Before production, the lubrication conditions of each hydraulic station, reducer, bearing shoe box and lead screw should be checked. Hydraulic oil and lubricating oil should be added correctly and timely.
9. After the machine is stopped, it is necessary to pick up the dust-collecting parts and other accessories in time, and apply the rubber roller to remove the residual materials and dirt from the machine for the next use.
10. It is forbidden to contact the corrosive liquid with the rubber roller, and ensure that the surface of each drive roller is clean and free of foreign matter.
11. It is forbidden to stack debris around the host system, and keep the surrounding area clean and free of foreign matter. Guaranteed a certain heat dissipation effect.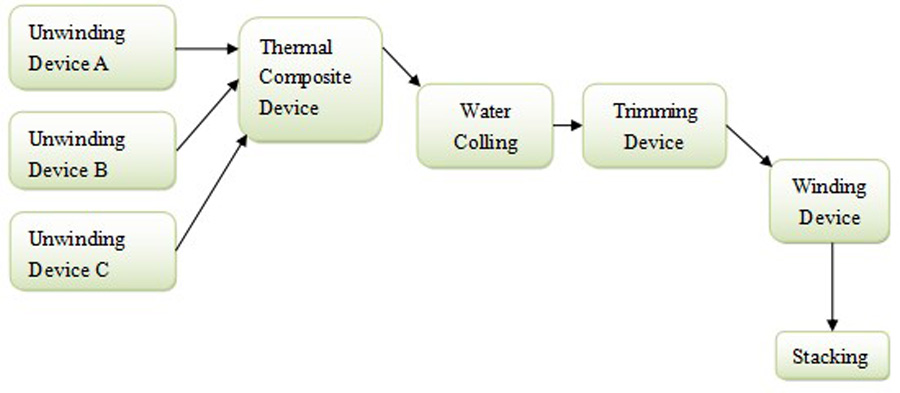 Main Technical Parameters
| | |
| --- | --- |
| Materials width | 1600mm |
| Roller width | 1800mm |
| Speed | 0~35 m/min |
| Machine size(L*W*H) | 6600×2500×2500 mm |
| Power | About 20KW |
| Motor | 380V 50Hz |
| Machine weight | 2000kg |
What's the laminating machine?
Generally speaking, the laminating machine refers to a lamination equipment which is widely used in home textiles, garments, furniture, automotive interiors and other related industries.
It is mainly used for two-layer or multi-layer bonding production process of various fabrics, natural leather, artifical leather, film, paper, sponge, foam, PVC, EVA, thin film,etc.
Specifically, it is divided into adhesive laminating and non-adhesive laminating, and adhesive laminating is divided into water based glue, PU oil adhesive, solvent-based glue, pressure sensitive glue, super glue, hot melt glue, etc. The non-adhesive laminating process is mostly direct thermocompression bonding between materials or flame combustion lamination.
Our machines only make Lamination process.
Which materials are suitable for laminating?
(1) Fabric with fabric: knitted fabrics and woven, non-woven, jersey, fleece, Nylon, Oxford, Denim, Velvet, plush,suede fabric,interlinings, polyester taffeta ,etc.
(2) Fabric with films, like PU film, TPU film, PTFE film, BOPP film, OPP film, PE film, PVC film...
(3) Leather, Synthetic leather, Sponge, Foam, EVA, Plastic....
Which industry need using the laminating machine?
Laminating machine widely used in textile finishing, fashion, footwear, cap, bags and suitcases, clothing, shoes and hats, luggage, home textiles, automotive interiors, decoration, packaging, abrasives, advertising, medical supplies, sanitary products, building materials, toys, industrial fabrics, environmentally friendly filter materials etc.
How to choose the most suitable laminating machine?
A. What's the detail material solution requirement?
B. What 's the material's characteristics before laminating?
C. What's the usage of your laminated products?
D. What's the material properties do you need to achieve after lamination?
How can I install and operate the machine?
We offer detailed English instruction and operation videos. Engineer can also go abroad to your factory to install the machine and traning your staff to operation.
Shall I see the machine working before order?
Welcome friends around the world to visit our factory for any time.
---
Previous:
Shoe making material laminating machine
---
Products categories